foxtrapper,

To add to this, the regular, original hammer & spring were just that: a hammer & spring opposing each other in a back-and-forth manner, like this: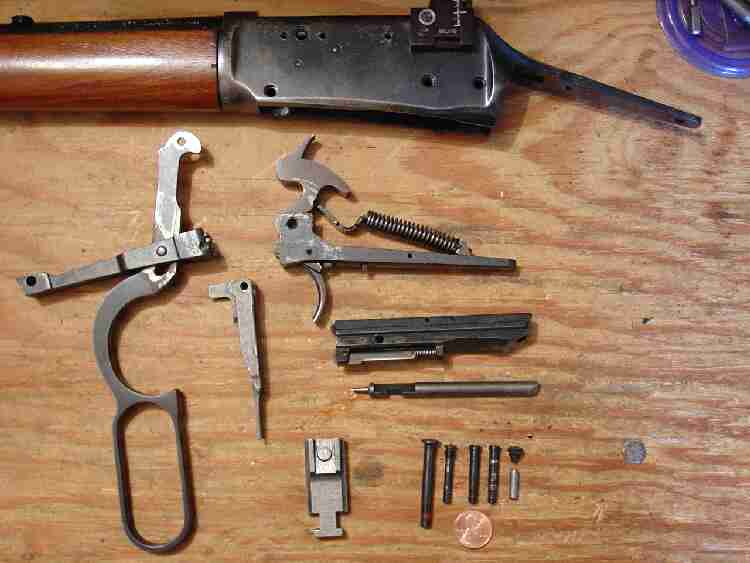 The rebounding type takes away the "half-cock" notch that was around for a hundred years, and forces the hammer backward a bit, so it can never accidentally touch the firing pin. The rebounding hammer has an extra notch under it, and the spring strut has an extra prong on it, like this: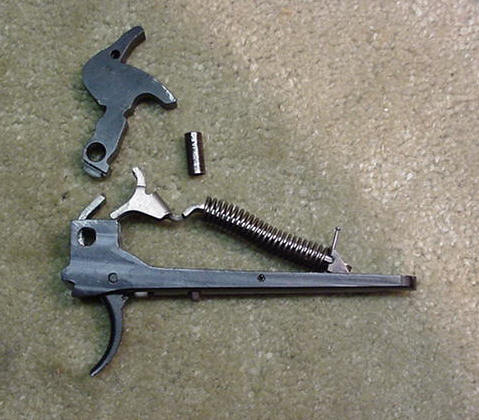 This statement may help you understand the rebounding hammer:

"To better understand the trigger and hammer function of the modern 94, please click on the thumbnail in figure 2. Study the lower tang assembly. Note the hammer spring guide rod with a two prong fork on the forward end (left) retains the coil mainspring. Note the two indentations on the rear of the hammer. The two prongs of the hammer spring guide rod ride in those two indentations. When the hammer is cocked, the pivoting action of the hammer causes only the top prong of the hammer spring guide rod to engage the hammer. The distance (leverage) from the hinge pin to drive the hammer forward is sufficient to drive the hammer forward and strike the firing pin. When the hammer is cocked, the pressure on the upper part of the hammer is much like that of any hammer and spring combination. Cocking the hammer also engages the sear, which holds the hammer in the full cock position until the trigger is pulled. There is no half-cock notch on this rifle and there is no need for one as long as we do not modify the design of the trigger and hammer."

Here are two very good articles (from which I pilfered the above pictures & info) about those two 94 trigger types:

http://www.castbullet.com/misc/tdown.htm

...from our own Junior.

http://www.time-slice.com/mohave.gambler/favorites/LeverGuns/Winchester94.htm

There is a third, older spring arangement that uses two, later one, flat, curved, leaf spring.

Shawn


"That's right, Billy, I'm good with it. I hit what I shoot at, and I'm fast!"-Lucas McCain, c1882.